Digby Brown to walk, run and cycle 1,443 miles in Scottish Courts Challenge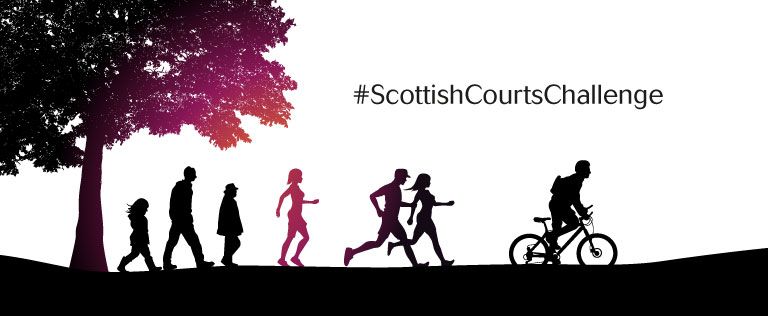 More than 150 people in Digby Brown are challenging themselves to walk a gigantic 1,443-mile virtual loop of Scotland's Courts – in just 24 hours.
The 'Scottish Courts Challenge' will see a team from Digby Brown Solicitors walk, run, cycle even row the equivalent distance between the country's 39 Civil Court locations.
Starting at Lerwick in Shetland the virtual route snakes down the east coast to Jedburgh in the Scottish Borders before heading west to Stranraer, then north to the finish in Stornoway on the Western Isles.
The route was devised in recognition of the reopening for business of Civil Courts across Scotland after they were forced to close because of the COVID-19 pandemic.
Hundreds of cases had to be sisted or were delayed during this time, causing a backlog which could take many months to clear so the opening of Civil Courts across Scotland is good news which Digby Brown wanted to mark.
There was also recognition that, at this time, asking other businesses or individuals for sponsorship to fundraise for this event was not appropriate. Instead for each mile covered, the firm will donate £10 with the total amount – a potential £14,430 – donated to our local office charities.
Fraser Oliver, Chief Executive of Digby Brown, said: "Like many businesses, Digby Brown had to postpone or cancel many events with our staff working remotely from home so we wanted to create something fun and worthwhile with our whole team brought together again, albeit remotely.
"Without the Courts functioning even in a virtual capacity our clients' cases were delayed. It is therefore great news that with the hard work of the Scottish Courts and Tribunal Service, the courts have reopened and, in turn, it seemed like a good idea to celebrate this by using the Court route as our challenge.
"We help people across the whole of Scotland  from our seven offices and have litigated in every one of these courts in recent years.
"At the same time, we recognise that our seven local office charities were massively affected by the cancellation of so many planned events so we are now proud to finally be able to step in and help them as well."
The huge effort will start at 12am on Friday 31 July and run for just 24-hours.
Each person will walk, run or cycle however long they can manage in half a day with their effort logged in a digital fitness app, where the collective total will be recorded to try and achieve the 1,443 mile target.
The charities set to benefit from the mission are:
•    Glasgow Local Charity - JMA Trust
•    Edinburgh Local Charity - Health in Mind
•    Dundee Local Charity - NICU Ninewells
•    Inverness Local Charity - Mikey's Line
•    Kirkcaldy Local Charity - Support in Mind Scotland, Fife Services
•    Aberdeen Local Charity - Sunrise Partnership
•    Ayr Local Charity - Whiteleys Retreat
Many of the team at Digby Brown are choosing to walk past one of the court locations. The progress of the participants can be tracked on the firm's social media channels using the hashtags #ScottishCourtsChallenge and #ItMatters