Dundee legal advisor braves the shave for Ninewells Neonatal Intensive Care Unit (NICU)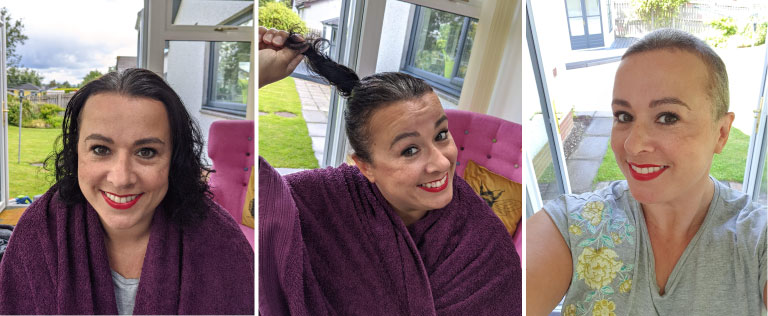 Caroline Brown from our Dundee office raised a massive £1,405 for her inspiring effort last week – nearly three times more than her original target!
She chose to shave her head because she had been thinking about it for a while due to having allergies to hair products and the increasing amount of grey that was coming through.
Caroline said: "I had a look at a few videos on You Tube of girls who had shaved their head and thought I can do this. On the day of the shave I felt ready, I wasn't nervous - it took me a bit of time after to get up and look in the mirror! But I thought it would be great to raise money for the NICU and that motivated me too. I have had lots of compliments about my new look. I really like it, thankfully. 
The donations have been so generous, it definitely made it all worthwhile."
Annmarie Rocks, Digby Brown's Corporate Social Responsibility Manager, added: "Caroline has made a great gesture and raised a great amount for the NICU and she perfectly illustrates how passionate Digby Brown's staff are about supporting the community.

"COVID-19 put an end to planned fundraisers like marathons or our popular quiz nights but rather than sit back and say 'Well everything is cancelled, so we can't do anything' the staff simply responded by thinking outside the box for ways to keep fundraising, keep supporting and keep giving back.

"Showing this kind of imagination and commitment is very encouraging indeed and congratulate Caroline for her efforts and everyone else engaged in alternate fundraisers."
Ninewells NICU cares for premature babies and provides support to families.
It became Dundee office charity partner for 2020 after local Associate Craig Brown saw the vital work of the NICU first-hand following the birth of his daughter.
Alison Findlay, Senior Charge Nurse/Midwife from Ninewells NICU said: "The staff so admire Caroline for doing this. I'm truly humbled at her courage at such a dramatic but beautiful change for a beautiful, warm-hearted person.

"Digby Brown supported Caroline so very well and we are thankful for them doing so.

"The funds raised will support the staff delivering family centred and holistic care to the babies and their parents and families; making their time with us much less clinical and more importantly help build positive memories for parents and families to share with their baby

"Sadly some babies won't grow but funds raised will help build such precious memories for all our parents and their babies in NICU. We are so very grateful and we thank them for thinking of us and supporting us."